If given a list of data from a survey, experiment, or some other activity, we will use a different formula for determining the margin of error. We will look at a specific example to see how this formula is used.
Example: Sentences were chosen at random from Michael Medved's book The American Miracle: Divine Providence in the Rise of the Republic. The number of words in the sentences were counted. This is the result.

Use the data above to: a) determine the mean and sample standard deviation, b) calculate a 95% margin of error, c) determine the respective confidence interval.
Whether by hand or by calculator, the sample standard deviation must be determined. The result is 6.496, rounded to the nearest thousandth.
Now, we can use the formula to calculate the margin of error. We will plug in the sample standard deviation (s), which is 6.496. The n-value is the number of data points and in this case it is 24 (see the 24 data points in the table).
Here is the information entered into the formula.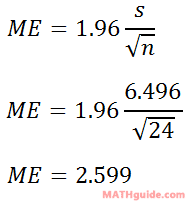 The mean of the data, which was collected by calculator, is 12.75. Now, we can determine the confidence interval.
High End: 12.75 + 2.599 = 15.349
Low End: 12.75 – 2.599 = 10.151
So, the confidence interval for this data is…