Let's look at an example problem and see how we use it to make a specific function.
If a projectile has an initial height of 50 feet and it's given an initial upward velocity of 100 feet/second, write a formula that describes the height of the projectile over time and determine all of its critical points.
The first step is to identify the values in the problem. The 50 is the initial vertical distance (height) of the projectile, 'd.' The 100 is the initial vertical velocity, 'v.' Since we are on Earth, the gravitational force is 32. So, our specific polynomial function is this.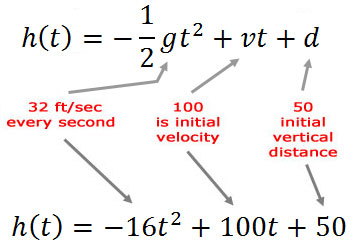 Notice that half of 32 is 16.
The next steps involve graphing the polynomial function. Graphing it can be easily accomplished with the use of a graphing calculator. There are several great graphing calculators available from Casio and Texas Instruments. There are also several online graphing calculators that can graph.
Here is what the graph of our specific polynomial function looks like.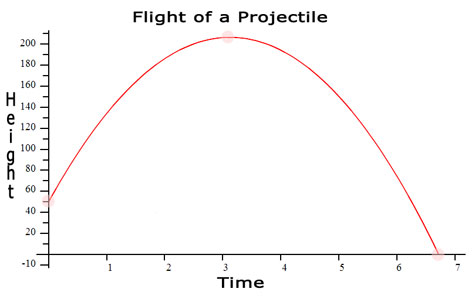 Keep in mind that the horizontal dimension (→) represents time and the vertical dimension (↑) represents the vertical height of the projectile. So, think of each point on the graph as (time, vertical height), not (x,y), and the rest of this lesson will be much more clear.
There are three important locations on the graph. Those points can be easily located using various features of a graphing calculator, like adjusting its "window," using "zoom::fit," "trace," and other commands. Each graphing calculator is a little different. Here is the first important point on the graph, which is the initial height of the projectile.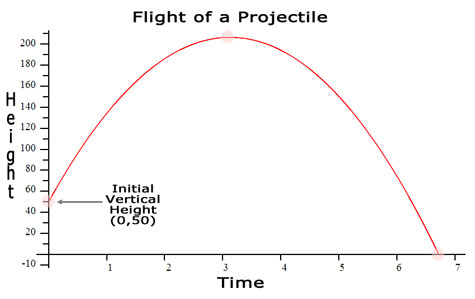 The second point is the maximum height of the projectile.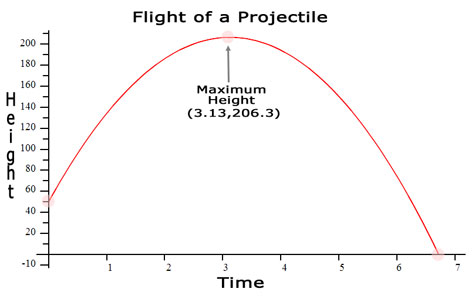 The last important point is the location on the graph that describes when the projectile reaches the ground.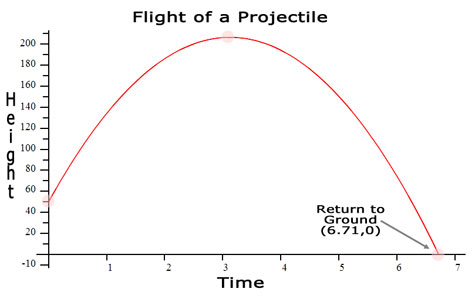 Let's examine those points a little bit more closely.
(0,50): Initial Height
The first value is time and the second is height. So, at t=0 seconds the projectile is at h=50 feet.
(3.13,206.3): Maximum Height
At t=3.13 seconds the projectile is at h=206.3 feet.
(6.71,0): Return to Ground
At t=6.71 seconds the projectile is at h=0 feet or ground level.
Now we know all the critical times and heights of this projectile. It reaches its maximum height of 206.3 feet at 3.13 seconds. It reaches the ground after a total of 6.71 passes from the time the projectile was launched.
Now, test your own skills with a problem of your own. Use the interactive quiz to try a problem.

ideo: Flight of a Projectile


uiz: Flight of a Projectile


ctivitiy: Flight of a Projectile


ctivitiy: Flight of a Projectile Activity