It is absolutely true that no one uses formulas when calculating standard deviation. Instead, either an advanced calculator or a software product is used.
Graphing calculators have a built in method for calculating standard deviation and sample deviation. This is true for other calculator manufacturers, which includes Casio and Hewlett Packard. However, the explanation below will use screenshots and explanations using the TI-Nspire calculator.
Let us get started by using the same data presented in the last section. We have.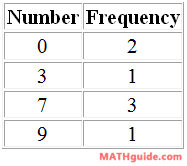 To begin, we have to get a new document. So, we have to press the home button to get a new document.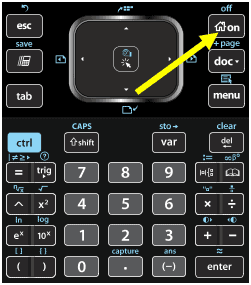 Then, we select "Lists and Spreadsheet."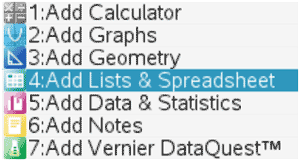 Next, we plug in the data we have in the same two-column format.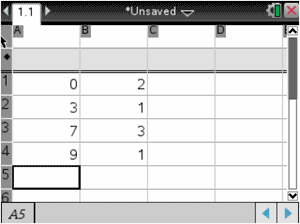 It is recommended (but optional) that we label the columns. Here, the top of column 'a' is labeled 'num' and the top of column 'b' is labeled 'freq.'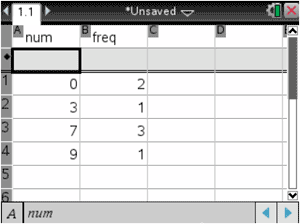 Now, we want the calculator to determine the mean and sample standard deviation. We press Menu, then Statistics and Stat Calculations, as shown here: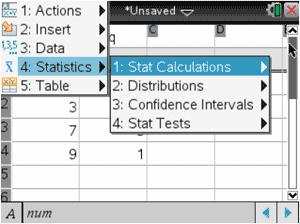 Then, select One-Variable Statistics, like so.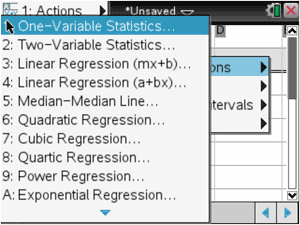 We now have to set the next menu. The 'x1 list' is asking for the column that contains the numbers in our data set. We can leave it as a[] to indicate column 'a' or we can click on 'num' from the dropdown menu, as shown here: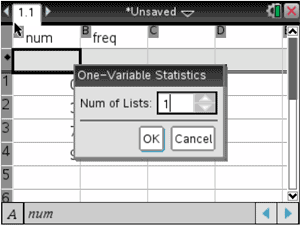 Next, click on the dropdown menu from the line marked 'Frequency List' to select either 'freq' or we can type in b[] to indicate column 'b.'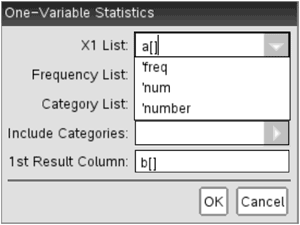 In the line marked '1st Result Column,' we have to indicate where we want the data printed. Since columns 'a' and 'b' are already occupied, make sure to type in c[] to indicate column 'c.' Here is a screenshot.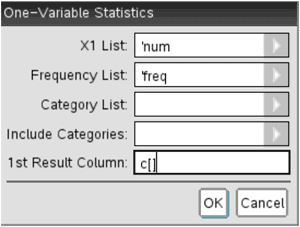 This next screen contains what we were looking for, namely the mean (labeled as x-bar) and the sample standard deviation (labeled sx), which has been highlighted below.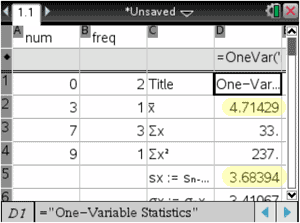 If we had all the data in the set and we were looking for the standard deviation (not the sample standard deviation), we would use the σx-value instead, which is highlighted in this menu.